Scent detection has fascinated me since my early days as a student of biology and I was training detection animals already at the beginning of the 1980s. I have trained dogs, rats and guinea pigs to detect narcotics, explosives, blood, vinyl, fungus, landmines, tuberculosis, tobacco—and they excelled in all fields.
Almost all my detection work has been for the police, armed forces or other professional agencies. Yet, I wrote about scent detection in the beginning of the 1980s in my first book, "Psychology rather than Power," which was published in Danish. Back in 1984, I called it "nose work" (directly translated from the Danish = næsearbejde). I recommended all dog owners to stimulate their dogs by giving them detection work starting with their daily rations. We even did some research on that and the results were extremely positive: the dogs stimulated by means of detection work showed improvement in many aspects of their otherwise problematic behavior. My recommendation remains the same. Physical exercise is, of course, necessary, but do not forget to stimulate your dog's "nose" as well, maybe its primary source of information about its world.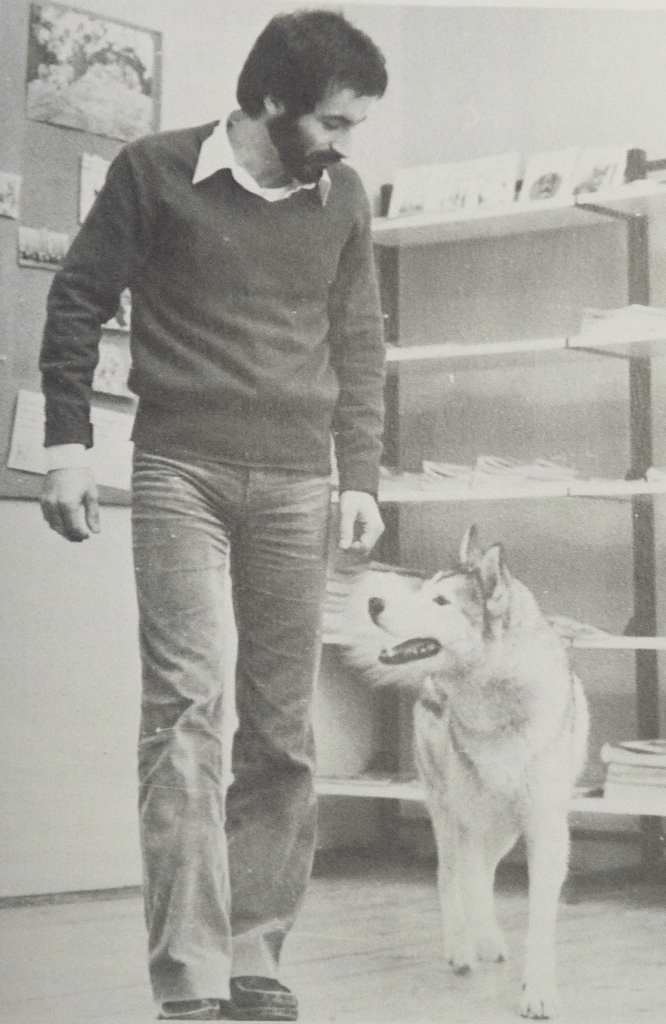 Yours truly in 1984 with a Siberian Husky, an "untrainable" dog, as everybody used to say. This was when my book "Psychology rather than Power" created a stir. We were then right at the beginning of the animal training revolution.
I write this blog 30 days after I started. 30 days, 30 blogs, 75, 764 readers and 187,756 page views. Yes, I'll continue blogging as long as you keep clicking that magic button "like"— my reinforcer.
I won't hold you any longer. I know you want to go and click the course link to watch the movies. Enjoy!
PS—Please, don't click all at the same time. Our server has been boiling since last week.
Featured image: Illustration by Alice Rasmussen for my book from 1984 where I write that næsearbejde (= nose work) is not only for the professionals but for all companion dogs as well independently of the breed.