Description
The 20 Principles All Animal Trainers Must Know is an online course, (also available as a seminar, workshop, book, and video). It explains clearly and concisely how we can train animals independently of species—dog, horse, cat, Guinea pig, marine mammal, etc. Animal training is a craft: half science and half art. The little textbook and course give you the most indispensable 20 principles with which you must be familiar to become a good animal trainer. You can choose to read the book is English, French, Portuguese, Spanish or Italian. Take this course online and earn a certificate.
Course level: Beginner/Intermediate/Advanced. This is a course for everybody.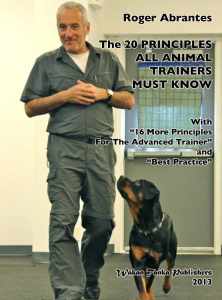 The book: When you enroll in this course, you get access to the book which you can read online anytime you like. You will also get all future updates. The book is available in English, French, Portuguese, Spanish and Italian.
DVD (optional): Three DVDs, almost six hours where Roger Abrantes goes thru the 20 principles in theory and practice exemplifying each with the dogs of the participants.
Watch the trailer below and order the DVD box-set here.
Taking the course
Studying: Watch the movie (included in lesson one), read the textbook (included in lesson two as a flipping-page online book) and take the tests.
One-on-one online tutoring: click "Contact Course Teacher" whenever you have any question.
Test and Certificate in "The 20 Principles All Animals Trainers Must Know"
After having watched the movie and read the book and, take the test and earn a certificate from the Ethology Institute Cambridge.
As soon as you complete the final test successfully, you will be able to print your certificate, show it to your friends, post it on Facebook.
Go for it and enjoy!
Fee: EUR 89 — USD 106.80.