Odie came to me on an odd day, one of those rainy, grey days, when the only thing you want to do is stay at home, listen to good music, watch the fire roaring in the fireplace, hold a hot cup of punch in your hands and feel sorry for yourself. Odie, an ugly duckling of a Pekinese, was awaiting his turn on death row. A twist of fate meant Odie survived his death sentence and, one year later, he had turned into a beautiful wolf.
I was sitting in my office at my desk, gazing absent-mindedly at a blank piece of paper lodged in my typewriter, which, unfortunately, had been stuck there for far too long. I was suddenly wrenched from my thoughts when our vet knocked at the door. "Have you got a minute? " she asked. I debated saying "No," but overcame the temptation. She came in, accompanied by Odie's owners, and explained the situation. Odie's owners wanted to euthanize him because they were sick of a particularly annoying behavior of his. He urinated all over the house and, when one day they found him cocking his leg up the impeccable flower arrangement they had proudly positioned in the middle of their much cherished, antique mahogany dining table, that was the last straw.
"Right on top of the table?" I asked them and they nodded solemnly.
I glanced down at Odie with newfound respect for it was no mean feat for an eight-inch (20 cm) tall Pekinese to climb on top of a dining table in order to accomplish a vital mission. So I asked them if I could keep the dog instead of them euthanizing him. I would try to solve his problem and find a good home for him. They were overjoyed at my proposal and I thus found myself being the improbable owner of a Pekinese for the first, and no doubt, last time in my life.
I was on a very tight deadline to write an article. After giving Odie a quick once over, I turned back to my typewriter and the embarrassingly blank sheet of paper. I remember thinking "Gee, you're a really ugly little fellow, I understand why they wanted to get rid of you." Odie grunted once in return. I think he could take a bit of humor. I would take care of Odie later. My first priority was to fill that all too white sheet of paper with some wise words.
Once deeply submerged in writing my article (or not writing it as the case may be), it was then I heard an almost imperceptible sound that took a couple of seconds to register and identify. I spun round to the source of the sound and, to my astonishment, my suspicion was confirmed. Odie was peeing on my books on my bookshelf.
I am a peaceful person and it takes a lot to upset me. Being a child of the sixties, I accept everyone and almost everything; all is good as long as it doesn't restrict my freedom. However, one thing I must confess I can't take is having someone peeing on my beloved books. I don't discriminate: nobody urinates on my books, period! My reaction was therefore pure reflex. I reached for the first thing I had at hand, ironically enough it was my first book about dog training and behavior "Psychology Rather Than Force" and, before I knew it, I had thrown it at Odie.
The book, a good quality hardback, landed with a smack right behind Odie. Taken by surprise, he yelped, performed a beautiful pirouette in the air and stood there looking baffled and bewildered, staring at my book. For my part, I remained quiet as a mouse, holding my breath. After a few seconds, Odie managed to compose himself. He approached the book, sniffed at it in a noisy, Pekinese manner, then took a sniff at the bookshelf before returning to my book on the floor and giving it another long, even noisier sniff. Smacking his lips, he decided to lie down right next to the book. I returned to my tauntingly clean sheet of paper whilst keeping one eye on Odie.
Odie fell asleep, or so it seemed, and I finally began filling the blank sheet of paper with some meaningful words. A little later, whilst searching for something on my desk, I happened to knock a pencil over the edge and it fell on the floor between the desk and that bookshelf, a source of so much knowledge and inspiration. Odie opened his big, bulging eyes, one looking right and the other looking left, and approached the pencil. I couldn't see him or the pencil but could hear him clearly, grunting, snuffling, puffing and panting. A few seconds later, maybe 15, he came around the desk directly towards me. He was holding the pencil in his mouth, each eye still looking in a different direction, one as wet as the other, dribble all over his face, with his head covered in balls of dust and fluff reminding me that my office needed a good hoovering.
I stretched out my hand to him and automatically said "tak" (which means "thanks" in the Scandinavian languages and was my sound signal for "release"). Odie, with a grunt, promptly dropped the slimy pencil into my hand. I was impressed. Was that a "retrieval"? Did he really retrieve that pencil for me?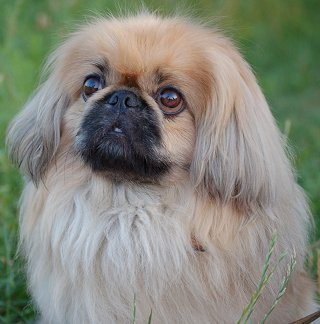 Odie became very popular. His odd looks combined with his skills were an improbable combination in most people's eyes.
I was so baffled and curious that I proceeded to do something that fellow pencil lovers regard as the ultimate sin towards pencils. You never drop a pencil as it is highly likely you'll break the lead inside, rendering it useless once sharpened a couple of times. I tossed the pencil so it fell in the same place between my desk and the bookshelf; and once again, Odie ran (I think he was running, but don't know for sure as I couldn't see his short legs for all the fur), he grunted, snuffled, puffed and panted, rubbing one eye then the other along the floor in an effort to pick up the pencil and, in doing so, collected even more dust fluff. He wouldn't give up, finally managed to take the pencil in his mouth and promptly returned it to me just as he had done before.
"Hallelujah!" I exclaimed despite my lack of religious conviction, "We have a retriever!" Joy filled my heart. The misery and self-pity the dull, grey day had imposed upon me ever since I had got out of bed that morning were gone like magic. Of all the activities I have undertaken with dogs, the one that has most amused me, and my dogs too it would seem, is without a shadow of doubt search and retrieve.
Odie never again urinated indoors, a fact we have discussed at some length. We are convinced it was the book incident that did it, due to the optimal coincidence of a series of conditions. Firstly, he was caught in the act (perfect timing), secondly, he did not associate the book falling behind him with me (instead with his own behavior), thirdly, the smack of the book falling on the floor had the right intensity to startle him (not too much, not too little), and fourthly, he associated the book aversive with his urinating behavior and nothing else (it happened when he urinated, it stopped when he stopped). No bad feelings towards books and (of course) no bad feelings from books towards him. Of course, the moral of this story is not that you should throw books at your dog. Let me say this loudly and clearly so no one gets it wrong: I do not recommend people throw books at their dogs. It worked in this case because of the coincidence of the many necessary conditions for it to work (as I explained) and that's it.
I kept Odie and we all trained him. Sit, stand and, down were no problem at all, only difficult to observe for all the fur and short legs. We used treats as unconditioned reinforcers and my "dygtig" (as a semi-conditioned reinforcer), but he would do anything as long as we held a pencil in our hands (this was his reinforcer of choice). He would take the treats only because he was hungry. We put him on a program where he had to work for all his food and he worked a lot: no free food at all. Odie became very popular. His odd looks combined with his skills were an improbable combination in most people's eyes. The staff at the Ethology Institute sometimes asked if they could take him home to show visiting friends. Odie never disappointed.
At the time, I was living in one of those enormous, old European mansions, like small castles, with three floors and endless of rooms. One particularly cold winter when the fields were covered by snow and ice, our cellar (basement) became a refuge for mice. This is very normal and we all know how to deal with the problem, except that I thought at the time it was more dignified for a mouse to die in battle than to be trapped or poisoned. Therefore, I introduced a hunting session every night at 8 pm after having read my son Daniel his bedtime story.
The nightly hunting session began with the troops, Petrine, Elanor (English Cocker Spaniels) and myself, assembling at the door to the cellar. Petrine and Elanor were skilled hunters so this was a good opportunity to stimulate them. Every evening we enacted the age-old game of predator and prey in the cellar of that big, old mansion house. Odie was always very keen to join us on our mission and, one evening, I decided to let him give it a go. Odie experienced his first hunt.
Odie quickly learned the rules of the game, although learn is perhaps the wrong term as it looked like he had always known and just had to be reminded. The first time, he went under a couch to chase a mouse, he took a long time. All I could hear was his usual grunting, snuffling, puffing, panting and the occasional high-pitched squeak from a mouse. I guess the mice were terrified of Odie's looks combined with the spluttering, snorting and grunting. He came to me carrying his first mouse by a hind leg, the mouse completely stiff and wet, but very much alive. Odie became an efficient mouse hunter. He was quick and could squeeze into confined spaces for which the cockers were too big. Every evening, he was the first to reach our rendezvous point. He was there from around seven onwards, waiting patiently. He insisted on being the first to reach the bottom of the stairs to the cellar which was quite a spectacle for the steps were too steep for his all too short legs. He somehow managed to overtake the cockers on the way down, not running, but tumbling down amidst a cloud of dust and much snorting and grunting. The cockers just looked at him bemused. Up until then, our mission had been a well-planned military operation. Stealth, discipline, training, dedication and precise timing were our weapons. After Odie joined us, it all looked more like Asterix and Obelix against the Romans.
The days passed, one year passed, and Odie grew older and more experienced. I bet he could have won all kinds of competitions, but we never subjected him to that. By then he had become a great hunter, only limited by his physical characteristics, the ones us humans have bestowed upon him through selective breeding.
It was bound to happen sooner or later: one day someone came along that wanted to keep Odie. It was love at first sight when they saw his antics. When they asked me about his original problem, I couldn't even remember what it was. I had completely forgotten, as had we all. After that first "attack" by my book, he had never again urinated indoors. Odie found a good home, one year after he had entered our lives.
I was sad to see him go. We all were. We often spoke fondly of him and made each other laugh by telling Odie stories. Odie had taught us invaluable lessons. First, that we should never judge anyone by their appearance. He was a little dog, short-legged, furry, flat-faced and cross-eyed, but he was a dog at heart like any other. None of us thought he was ugly, despite my initial horror. He was further evidence that many dogs develop problems because they are not treated as dogs; they are understimulated and their excess energy causes them to engage in any kind of activity, be it desirable or undesirable for the owners. He was a quick learner and an impeccable hunter with an enormous joy for life. Without words, he told us: "Respect and you shall be respected. I'm not a toy, not a thing, not a little human. I'm Odie, a Pekinese dog."
14 years later, I went to give a talk in a town about 50 km from where I lived. During the break, a couple approached me and asked me if I remembered them. It took me a while, but I did recognize them. They were the new owners we had found for Odie. He was still alive, they informed me, but very old and tired by then. He no longer had any front teeth, as his love for retrieving hard objects had not waned over the years. They said they were getting ready for the day they would have to say goodbye to Odie and I saw their eyes well up.
Thinking of him, my eyes welled up too, Odie, the ugly duckling of a Pekinese that had turned into a beautiful wolf in my eyes and in the eyes of all those who had the privilege to know him. Thanks, Odie, my friend!
___________________________
PS—I know that metamorphosis does not occur in canids and that a dog cannot turn into a wolf. I also know that a dog is a dog (Canis lupus familiaris) and not a wolf (Canis lupus lupus). Since this is a story with a point written for a blog, not a scientific article, I allow myself some artistic license when I write "Odie turned into a beautiful wolf."
Featured image: Odie, an ugly duckling of a Pekinese, was awaiting his turn on death row. A twist of fate meant Odie survived his death sentence and, one year later, he had turned into a beautiful wolf (Photo by Nikolaj).
Featured Course of the Week
Ethology Ethology studies animal behavior in its natural environment. It is one of the fundamental courses in your curriculum. A reliable knowledge of animal behavior is the basis to create a satisfying relationship with any animal we train.
Featured Price: € 168.00 € 98.00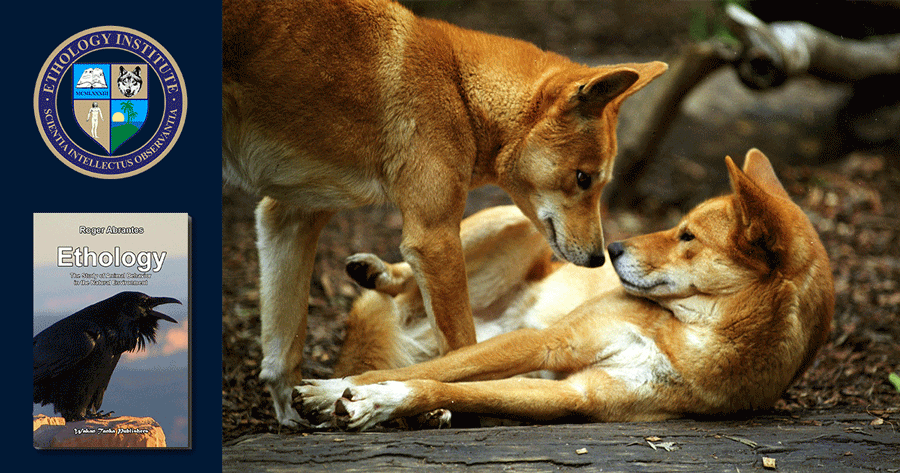 Learn more in our course Ethology and Behaviorism. Based on Roger Abrantes' book "Animal Training My Way—The Merging of Ethology and Behaviorism," this online course explains and teaches you how to create a stable and balanced relationship with any animal. It analyses the way we interact with our animals, combines the best of ethology and behaviorism and comes up with an innovative, yet simple and efficient approach to animal training. A state-of-the-art online course in four lessons including videos, a beautiful flip-pages book, and quizzes.