"Mi método de entrenamiento de animales: la fusión entre etología y conductismo" explica y enseña cómo crear una relación confiable con cualquier animal. Este curso analiza la forma en que interactuamos con nuestros animales, combina lo mejor de la etología y el conductismo, y presenta un enfoque innovador, pero simple y eficiente para comunicarse con un animal. Es una guía para crear relaciones armoniosas, estables y equilibradas.
Principiante a avanzado. Este curso es para todos, independientemente del conocimiento o experiencia previamente adquiridos.
"Animal Training My Way—The Merging of Ethology and Behaviorism"
por Roger Abrantes, Ph.D. en Biología Evolutiva y Etología.
Contenido del libro
Capítulo 1 Un enfoque pragmático para el entrenamiento de animales.
Capítulo 2 Creando una relación.
Capítulo 3 Las herramientas de entrenamiento.
Capítulo 4 Entrenando habilidades aplicando la etología y el conductismo.
Capítulo 5 Mantenimiento y fiabilidad del comportamiento.
Capítulo 6 Consideraciones prácticas.
Capítulo 7 Elementos de Etología.
Capítulo 8 Una cuestión de actitud.
Capítulo 9 Mente y corazón.
Este libro está disponible por separado en inglés. Sin embargo, los estudiantes no necesitan adquirirlo ya que el texto completo se presenta aquí a lo largo de las diversas lecciones.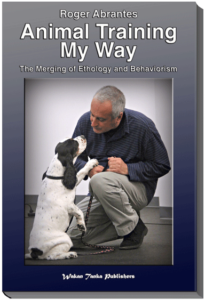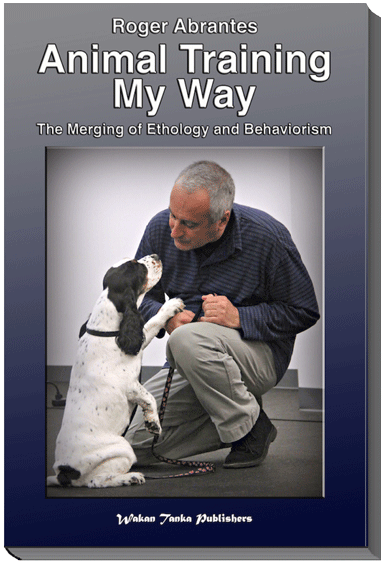 Estudios en línea y tutoría
Mira la(s) película(s) y lea los textos en las diferentes lecciones. Sigue el foro del curso donde puedes leer las respuestas de nuestros tutores (en inglés) a las preguntas planteadas previamente por tus colegas. Si tienes una nueva pregunta, no dudes en publicarla.
El foro del curso es únicamente para preguntas académicas. Para asuntos administrativos o dificultades para acceder a la funcionalidad del sitio, envía un ticket.
Una vez que estés listo para ello, responde los cuestionarios. Puedes completar un cuestionario tantas veces como desees. Te recomendamos que vuelvas a completar los cuestionarios una vez al año como control de calidad auto-impuesto.