Dr Abrantes answers frequently asked questions about Sailing and Diving in Paradise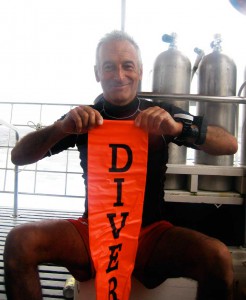 1. What is included in the price for Sailing and Diving in Paradise? Everything after you arrive to Phuket Airport (HKT) including all transfers, accommodation, meals (minus your alcohol consumption), diving and diving equipment, except your flight ticket to HKT and back home.
2. Is it safe to dive in the South Andaman Sea? Yes, we will only take you to dive sites of which we have an intimate knowledge.
3. Are there big sharks around? No, you won't see the big white shark (unfortunately for some). You may though see the smaller Leopard Sharks and the huge Whale Shark (not a meat eater).
4. Can I see Nemos and turtles? You'll see Nemos (Ocellaris Clown Fish or Amphiprion ocellaris) for sure and with a bit of luck we know where the turtle is.
5. Is the diving equipment new? You may be lucky and be the first to use your diving equipment,which otherwise and in all cases will be in top condition.
6. Are all the instructors certified and insured? Yes they are. This is a requirement from PADI.
7. Can I risk having decompression illness? We won't risk any decompression problems because we'll not be diving too deep nor too long (only recreational diving), unless someone has a specific serious medical condition (which is highly improbable). All our dives are theoretically non-decompression dives, but for extra safety we always make a decompression stop for three minutes at five meters. In any case, the emergency plan is there to deal with all cases, even pick up from the boat by helicopter if necessary.
8. Is there an hyperbaric chamber nearby? Yes. There are three hyperbaric recompression chambers, two in Koh Phuket (Vachira Hosptal and Patong) and one in Koh Samui, all under control of the Hyperbaric Services of Thailand (HST).
9. Do you have established emergency plans? Yes, all boats have by law the emergency plan affixed on the wall of their diving area as well as emergency oxygen for first-aid treatment. I probably know that plan better than anyone since it was my assignment to make it (or update it) a couple of years ago.
10. Can I call home? While sailing, your GSM cell phone will be able to pick up a signal most of the time, except when we are far way from any island. Le Meridian offers you landlines and internet.
11. Can I get seasick? If you have a tendency to it, surely you can. You can take a sea-sickness pill as prevention and if it doesn't make you dozy, you can still dive. The South Siam 3 is though a big boat and doesn't rock as much as smaller boats.
12. How is the weather? The air temperature is between 33 C (91 F) and 38 C (100 F) and you'll have plenty of chances to get an enviable tan. Use of sun blocker is advisable. The water is warm, on average 31 C (88 F) and the visibility good. We'll be sailing during the rain season and sometimes it may rain cats and dogs, which normally is no problem because when the rain stops everything dries quickly since it is so hot. Because we are at sea, even if the weather is very hot it doesn't feel suffocating like on land. Your stateroom aboard has air-conditioning.
13. What clothing shall I bring? You'll be either in the water or sailing most of the time. A couple of light shirts, t-shirts, tank-tops, shorts, light dresses, swimsuit, swim trunks, or bikini, and flip-flops will do it. Personally, since it is so hot, I prefer a light shirt, a โสร่ง (a sarong, a kind of wrap-around skirt traditionally used by men in Thailand) and flip-flops. The wrap-around dress used by women is called pha-sin, ผ้าซิ่น.
14. How is the food? Thai food is delicious and spicy. The chef aboard gives you the option of spicy or non-spicy Thai food. You'll also have western dishes.
15. Do I need a visa for Thailand? Citizens of most western countries don't need a visa (you'll get a visa on arrival), Click here for more information. Sometimes, check in personnel may require that you show a valid return ticket. If you are a foreigner living in Thailand, you don't have a return ticket (flying back home to Thailand is your return ticket). In this case, you must have a valid visa; otherwise you may be forced to buy a return ticket to be allowed to board the flight (unfortunately, the rules are not clear and procedures depend on who's sitting at the check in).
16. Do I need any vaccines? No, you don't, unless you come from an yellow fever infected area, in which case you will get an yellow fever vaccine upon arrival at Suvarnabhumi Airport in Bangkok.
17. Can I risk getting malaria? No, there's no malaria in Thailand, except in the dense forest regions bordering Cambodia and we are not going there.